Life in a boiler room can be pretty boring. If you've done your job right and if your Secretary of State/Board of Elections is not behaving like dumpster fire there's very little for you to do: collect numbers, reallocate resources, and that's about it. It's hard to keep yourself entertained/distracted/from obsessively refreshing
538.
I've been wanting to do this post for a while and I thought what better time than when you'll be sitting in front of a computer for several hours obsessing about an election. Unfortunately Cupcake Wars and The Bachelor have not yet done an elections episode (
can you imagine though
) and I didn't shows that routinely deal with electoral politics like Parks and Rec and West Wing.
So, here are some of my favorite television shows of all time reviewed for how they deal with the concept of elections!
Futurama: A Head In the Polls
(Also Available on Netflix)
Fry: If I were registered to vote, I'd send these clowns a message by staying home on election day and dressing up like a clown!
The plot:
The episode starts out with two nearly indistinguishable candidates running for President of Earth and the gang commenting on their various political affiliations/registration status. However the Planet Express crew starts to take the election a lot more seriously when a robotic Nixon gets in the race.
Review:
I started here because in my mind this is the most well done election episode around. All of their political episodes are wonderful perhaps in part because SNL writer and Al Gore's daughter Kristen Gore is on their writing staff. I love how creative Futurama can be because they are not bound by what is physically or temporarily possible. This episode tackles voter apathy, third parties and a slew of other topics that are perpetual thorns in my side with humor and insight. RoboNixon not withstanding this episode is #tooreal. If you only watch one episode this GOTV, this is the one to watch.
High points:
Presidential history jokes (my soft spot).
Low points:
Spoiler alert: their sudden enfranchisement doesn't go great for the crew.
30 Rock: Brooklyn Without Limits
(Available on Netflix)
Jenna: If they could be bribed I would have won an award for my Lifetime original movie, 'Sister Can You Spare a Breast?'
The plot:
Jack gets involved in a Congressional race to back an Independent Tea Party type candidate who he thinks will be good for business. Meanwhile Liz becomes obsessed with an Urban Outfitters type store that turns out to be owned by Halliburton.
The Review:
Another excellent episode and not the only 30 Rock about elections. I would also recommend watching the episodes called
Unwindulax
and
There's No I in America.
I chose this one first because I love John Slattery who plays candidate Steven Austin (
"and if you're blind, yes, I am the wrestler"
) but also because it feels so relevant to this election. How much crazy will people vote for in favor of their perceived economic interests?
High points:
My distaste for Urban Outfitters' liberal persona with right-wing roots
has been well documented
. This episode expertly lampoons what Liz Lemon would refer to as that "
Hipster nonsense.
"
Low points:
Does Steven Austin's Zappos box ever arrive? They really left me hanging.
Seinfeld: The Wizard
(Available on Hulu)
George: Snoopy and Prrrrickly Pete!
The plot:
Kramer moves down to Florida and runs for President of Jerry's parents' condo board. George lies about owning a home in the Hamptons to avoid Susan's parents. Elaine's boyfriend is of indeterminate race.
Review:
Several Seinfeld episodes touch on electoral politics most notably The Non-Fat Yogurt where Lloyd Braun is David Dinkins' campaign manager. I chose this one because it was the episode in which an election played the biggest role. Yes it's not a "real" election but the show is self-aware enough that the joke is in how inappropriately seriously the characters take it and as always they nail the old Jewish thing. It also includes two of the most quotable Seinfeld B-stories. This episode is solidly in the upper quartile of what is in my opinion the best sitcom of all time. Giddy-up!
High points:
Like I said, this is an all-around amazing episode but the way Mrs. Ross nails the line "sounds grand" makes its way into at least one conversation a month with one of my best friends from high school.
Low point:
The idea of a cottage cheese and egg whites comment is so gross I sometimes gag when I hear that scene.
Bonus content:
Who Seinfeld characters would support in 2016.
It's extremely well thought out.
Arrested Development: The Immaculate Election
(Available on Netflix)
Rav Nadir: Drought, starvation, there are the things my family has had to deal with for generations...although fortunately not since we moved to Corona Del Mar.
The plot:
George Michael is running for Student Body President against the much more popular
Steve Holt
. Michael enlists GOB's help to keep George Michael from getting crushed.
Review:
There is actually a more-election specific episode of Arrested Development in Season Four but because its in that season I consider it non-canonical (
I don't understand that episode and I won't respond to it
). I actually appreciate that the episode doesn't go out of its way to pretend that school elections parallel actual political campaigns plus Seasons 1-3 of Arrested can do no wrong in my eyes.
High points:
This clip
of Buster acting out his favorite movie scenes is my happy place.
Low points:
As I said it's not really that electiony.
Saved by The Bell: The Election
Jessie: Fair! Fair? What does fair have to do with it? We are WOMEN we go to the bathroom together, we VOTE together!
The plot:
Jessie is running for school President which Zack thinks is totally lame but THEN Zack finds out the winner gets a trip to Washington, DC and to miss school for a week. You see where this is going. Zack gets in the race, friendships are put to the test and spoiler alert: valuable lessons are learned.
Review:
I'm not a huge fan of school-elections-as-social-commentary episodes because student government has very little to do with real elections, but you know, its an easy allegory especially when your show is set in a high school. Reviewing an episode of Saved by the Bell is like reviewing a bowl of Kraft Macaroni and Cheese- you know empirically its not going to be good but its so formulaic and neon and nostalgic that you enjoy the heck out of it anyway.
High points:
Mr. Dewey the sardonic and monotone math teacher/faculty advisor, delivering deadpan humor in a way that only exists in 90's sitcoms.
Low points:
Zack, "As for me, I only run for buses, blondes and brunettes" Burn, Zack. I'm right here. Also could do without the sexism and the Roseanne Barr fat joke.
Bob's Burgers: The Millie-churian Candidate
(Available on Netflix)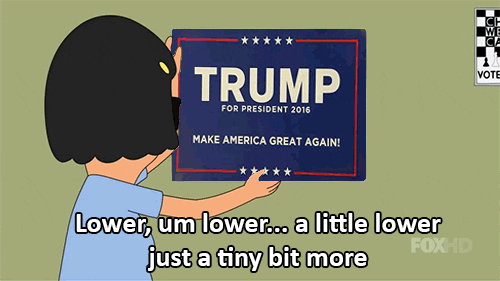 Tina: Wow brains and brawn, is what I would say if you had the brawn part.
The plot:
Louise's weirdo groupie Millie runs for class President in order to get closer to her.
Review:
I hate this episode so much. And I LOVE Bob's Burgers. It's pretty needlessly convoluted and just uncomfortable for pretty much every character. Also it is very low on Linda Belcher who is obviously the best character. However it does have a pretty clever twist at the end and as Linda learned the hard way, a lie is not a twist. So go ahead and watch it but don't have a crap attack.
High points:
It did give us the above GIF which has been of big use this election season.
Low point:
The character of Millie is so annoying that its almost unwatchable. She is so annoying that uses the idea of an improv club to make herself sound LESS gross and crazy.
Golden Girls: Strange Bedfellows
Blanche: Just because you didn't have a good time is no reason to bore your friends with a bad story.
The plot:
The girls are volunteering on the City Council campaign of "wimp" Gil Chesteron, but Dorothy and Rose are dismayed and angry when Blanche appears to have had an affair with the married candidate. Meanwhile Sophia is convinced that Gil is harboring a secret.
The Review:
Ughhhhhh.....okay, I'm just going to tell you. The "secret" that Sophia senses turns out to be that Gil is transgender. This is probably my least favorite episode of one of my favorite shows because it is problematic as fuck. It's also just not very good. Two cheesecakes down.
High points:
Rose the whacktivist has the idea to make bird feeders with Gil's name on them and Dorothy is appropriately disgusted by this plan.
Low points:
Transphobia, slut-shaming, not believing women. Take your pick.
What do you think? Did I leave something out? What's your favorite election episode and how are things going out there?
What are ya hearin'?
Campaign Love and Mine,
Nancy